Home
Aloha
A little about ourselves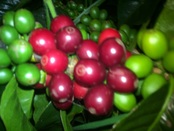 Olinda Organic Farm is owned by Rob and Martha Lind and was established in 2009. We are a family coffee farm which follows organic growing practices, and are located on the northern slope of Haleakala on the island of Maui. We are situated next to the Makawao Forest Preserve at an elevation of 3,250 feet. Our red soil is primarily Olinda Loam, which is described as "degraded volcanic ash". We are on our way to a third straight year of receiving 85+ inches of rain. The cool nights, warm days, and ample rainfall provide the perfect environment for producing slowly maturing coffee cherries which are dense and sweet.
Rob picks the cherries at the peak of ripeness, when they are at their sweetest, then processes them by either the washed, honey, or natural process. After drying, resting, and removing the parchment layer, Rob roasts the coffee in small batches, blending multiple roasts and storing them in vacuum-tight canisters for several day to allow the coffee to degas carbon dioxide. Because the coffee will continue to produce CO2, we use bags with one-way gas valves to allow further CO2 elimination without allowing oxygen to enter the bag.
Our primary coffee variety is Red Catuai, with lesser amounts of Red/Orange Bourbon, Typica, Yellow Catuai, Mundo Novo, and Mokka varieties.
---
Recent News
On July 15, 2016 our washed Red Catuai, our first-ever entry in the 2016 Hawaiian Coffee Association Conference Cupping Contest,
took First Place for the Maui District, and tied for Third Place for best
coffee in Hawaii. The cupping panel described our coffee as having:

"A bright, clean, crisp, juicy cup with Kenya-like acidity
and notes of lemon, raspberry, sweet pea, and spice -
balanced by soft fully rounded tones of syrupy sugar cane."



---